USS CONYNGHAM DD 371 1936 -- 1946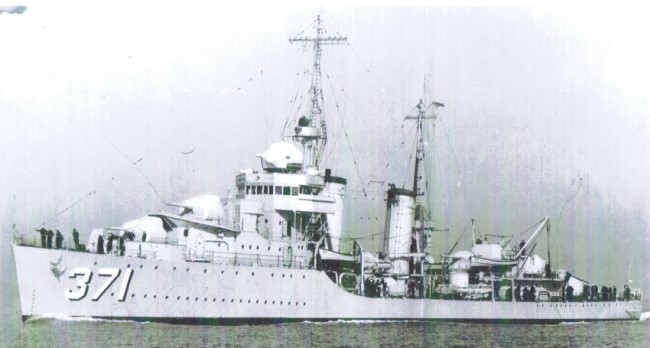 Length: 341 ft 4 in
Draft: 9 ft 10 in
Beam: 35 ft
Speed: 36.5 kts
Displacement: 1500 tons
Complement: 8 Officers / 150 Enlisted
Armament:


Five 5"/38 Gun Mounts
Three Quad 21" Torpedo Launchers,
Two Twin 40 mm Gun Mounts
Five 20mm Guns
Five 50 cal Machine Guns
Four Depth Charge Projectors and Two Depth Charge Racks
---
The second CONYNGHAM, DD 371, was a destroyer launched 14 September 1934 by Boston Navy Yard, sponsored by Mrs. A. C. G. Johnson and commissioned 4 November 1936, Commander G. C. Hoover in command.
In the spring of 1937, CONYNGHAM made her maiden cruise to ports of northern Europe, and after overhaul at Boston, sailed for San Diego where from 22 October she conducted training exercises. Operations along the west coast, in the Hawaiian Islands and in the Caribbean continued until 2 April 1940, when she sailed from San Diego for Pearl Harbor, and duty with the security patrol. In March 1941, she sailed on a cruise to Samoa Fiji, and Australia, returning to local operations from Pearl Harbor.
On 7 December 1941, when the Japanese attacked Pearl Harbor, CONYNGHAM joined in shooting down several planes, and by 1700 was underway for patrol. She continued to patrol from Pearl Harbor through December, and after a brief overhaul at Mare Island, had escort duty between the west coast and the New Hebrides. With all available forces organized for action as the Japanese threatened Midway in June 1942, CONYNGHAM's escort duties were interrupted to screen carriers in the Battle of Midway, the turning point of the war, fought on 4, 5, and 6 June. In this decisive victory the Japanese were crippled by the loss of four carriers and their best trained and most experienced aviators, a loss from which they never fully recovered. CONYNGHAM returned to escort duties until 16 October 1942, when she put out from Pearl Harbor to screen Enterprise (CV-6) for action in the Southwest Pacific. She defended the carriers in the Battle of the Santa Cruz Islands 26 October, as the American task force encountered heavy air opposition in its turning back of a larger Japanese force bound for Guadalcanal. On 2 November, CONYNGHAM bombarded Kokumbona, and while maneuvering in close quarters, collided with another destroyer. The resulting damage was repaired at Noumea and Pearl Harbor, and she returned to Espiritu Santo 4 February 1943 to resume her support of the Guadalcanal operation. On 7 February she bombarded Doma Cove, and for the next 5 months, continued patrol and escort duties between bases in the South Pacific and Australia.
CONYNGHAM brought gunfire support to landings on Woodlark and Kiriwini Islands off New Guinea from 1 to 3 July 1943, and on 23 August bombarded Finsehhafen, New Guinea. On 4 September she screened landings at Lae, New Guinea, and later that day was attacked by three enemy bombers, which damaged her with their near misses, wounding one of her men. Quickly repaired, she returned to Finsehhafen 22 September to cover landings, then sailed to Brisbane, Australia, for a brief overhaul. She was back in action for the landings on Arawe, New Britain, on 15 December, on Cape Gloucester 26 December, and on Saidor, New Guinea, 2 January 1944. She continued escort and patrol duties in the New Guinea area, aside from a repair period in Australia in January 1944, until she sailed in March for an overhaul at San Francisco.
Returning to Majuro late in May 1944, CONYNGHAM sailed with TF 58, screening battleships during the Marianas operation. On 13 June she fired in the bombardment of Saipan, and remained in the Marianas offering fire support, escort, and patrol services until August. After escorting ships and moving men and supplies among Pacific bases in preparation for the return to the Philippines, CONYNGHAM arrived in Leyte Gulf 4 November screening reinforcements. Taking up patrol there, she was strafed by an enemy float plane on 16 November, which wounded 17 of her men and caused slight damage to the ship. On 7 December she covered the landings in Ormoc Bay under heavy air attack, and on 11 December, entered Ormoc Bay again with reinforcements.
Putting into Manus for replenishment 23 December 1944, CONYNGHAM sailed on to Hollandia to join the screen of a convoy bound for Leyte and on the landings in Lingayen Gulf. Here she joined in pre assault bombardment, and remained on patrol after the landings of 9 January 1945 until 18 January. Her bombardment and fire support effectively contributed to successful landings on Luzon, Mindanao, Palawan, and Borneo through early July. At Subic Bay from 22 July for overhaul, she remained there at the close of the war, and was decommissioned 20 December 1946. Used in the 1946 atomic weapons tests at Bikini, she was destroyed by sinking 2 July 1948.
USS CONYNGHAM DD 371 received 14 battle stars for World War II service.

---

Commanding Officers DD 371
| | |
| --- | --- |
| Lt. Commander Gilbert C. Hoover* | 4 Nov 1936 - 25 June 1938 |
| Lt. Commander David S. Crawford* | 25 Jun 1938 - 8 Apr 1939 |
| Lt. Commander James E. Craig* | 8 Apr 1939 - 14 Apr 1941 |
| Lt. Commander Byron S. Anderson* | 14 Apr 1941 - 2 Dec 1941 |
| Lt. Commander Henry C.Daniel* | 2 Dec 1941 - 4 Dec 1942 |
| Lt. Commander James H. Ward* | 4 Dec 1942 - 10 Jan 1944 |
| Lt. Commander Brown Taylor* | 10 Jan 1944-26 Jan 1945 |
| Lt. Commander Frank W. Bampton* | 26 Jan 1945 - 30 Sept 1946 |
| Lieutenant Henry J. Feltus | 30 Sep 1946 - 20 Dec 1946 |
(*) Deceased
---
USS CONYNGHAM DD 371
World War II Battle Stars
1
Pearl Harbor
7 December 1941
2
Battle of Midway
3-6 June 1942
3
Battle of Santa Cruz Islands
26 October 1942
4
Capture and Defense of Guadalcanal
2 November 1942
5
Consolidation of Solomon Islands
17 February 1943
6
Pastern New Guinea Operation
| | |
| --- | --- |
| Lae Operation | 4 September 1943 |
| Finschhafer Occupation | 22 September 1943 |
| Saidor Occupation | 2 January 1944 |
| | |
| --- | --- |
| 7 | Bismark Archipelago Operation |
| | |
| --- | --- |
| Support Air Actions | 15-16 December 1943 |
| Cape Gloucester, New Britain | 26 December 1943 |
| | |
| --- | --- |
| Capture and Occupation of Saipan | 14 June - 12 July 1944 |
| Battle of Philippine Sea | 19 - 20 June 1944 |
| Capture and Occupation of Guam | 21 - 23 July 1944 |
9
Tinian Capture and Occupation
24 July - 10 August 1944


10
Leyte Operation
| | |
| --- | --- |
| Leyte Landings | 4-13 19-29 November 1944 |
| Ormoc Bay Landings | 7-8 December 1944 |
11
Lingayen Gulf Landings
4-18 January 1945
12
Balikpapan Operation
26 June - 9 July 1945
13
Manila Bay Bicol Operation
| | |
| --- | --- |
| Nsugbu | 31 January - 5 February 1945 |
| Marivolos Corregidor | 14-28 February 1945 |
| | |
| --- | --- |
| 14 | Cosolidation of the Southern Philippines |
| | |
| --- | --- |
| Palawen Islands Landings | 28 February - 1 March 1945 |
| Mindanao Island Landings | 17-23 April - 3 May 1945 |
| Visayan Island Landings | 26-28 March 1945 |