USS CONYNGHAM DDG 17
1963 -- 1990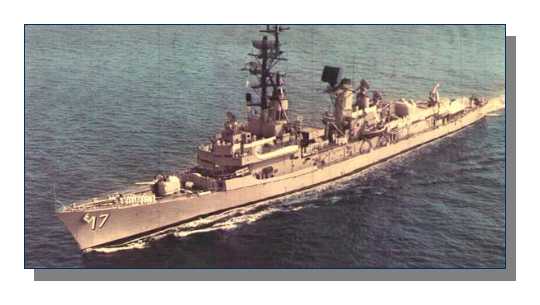 Length: 437 ft Draft 15 ft
Beam: 47 ft Speed: 32+ kts
Displacement: 4500 tons
Complement: 24 Officers 330 Enlisted

Armament:

Tartar Missile System
Two 5"/54 Caliber Gun Mounts
One Eight-Cell ASROC Launcher
Two Three-Tube Torpedo Launchers
---
The third CONYNGHAM, DDG 17, was a guided missile destroyer built by the New York Shipbuilding Corporation. Camden, New Jersey. Her keel was laid 1 May 1961 and was launched on 19 May 1962. She was commissioned 13 July 1963 as the sixteenth ship in the Charles F. Adams class.
During her 27 years of commissioned service. CONYNGHAM lived up to her motto, "Ready to Serve". Her presence exerted a powerful influence during times of crisis and helped maintain peace as a component of NATO seapower throughout the Cold War period. CONYNGHAM made 15 Mediterranean deployments--three to the Persian Gulf, seven to Northern Europe, and 11 deployments to the Caribbean. She distinguished herself during crises in Cyprus (1964, 1974); provided air cover for planes evacuating Americans from an insurrection in Amman, Jordan (1970); took part in contingency operations during the Arab-Israeli Yom-Kippur War (1973); was the escort combatant during the evacuation of Americans from Beirut, Lebanon (1976); and conducted Black Sea Freedom of Navigation operations (1979).
During the 1980' s, CONYNGHAM continued to support United States foreign policy when she served off the coast of Libya (1982); was awarded the Navy Expeditionary Medal for providing naval gunfire support of Marines stationed in, and off the coast of, Beirut, Lebanon (1983) and monitored maritime traffic off the coast of Nicaragua (1983). She sailed with the USS AMERICA (CV-66) Baffle Group in support of U. S. intervention forces in Grenada (1983). While deployed to the Caribbean, CONYNGHAM was credited with four drug interdictions and was awarded the Coast Guard Meritorious Unit Commendation Medal (1986).
CONYNGHAM continued superior performance as she escorted U. S. Flag merchant shipping through the Persian Gulf during the Iran-Iraq War in 1987. During that deployment she sortied from Bahrain on short notice and provided assistance to USS STARK (FG-31) after she was hit by two anti-ship missiles launched by an Iraqi F-1. CONYNGHAM was awarded the Navy Unit Commendation for her efforts in saving the crippled ship. In 1988, CONYNGHAM continue the "Gus Can Do" tradition during her deployments to the Fjords of Norway and Northern Europe. She completed her fifteenth Mediterranean deployment and received her fourth Battle Efficiency "E" in 1989.
On 8 May 1990, while conducting pre-deployment operations off the Virginia coast, CONYNGHAM met her greatest challenge. A major fuel oil fire erupted from the ship's Forward Fire Room into the ship's superstructure, isolating the crew forward and aft. requiring an all-hands effort to extinguish it. During the mass conflagration, the Operations Officer was killed and 18 men were injured. CONYNGHAM was decommissioned 30 October 1990 in Norfolk, Virginia.
USS CONYNGHAM DDG 17 was awarded the Battle Efficiency "E" in 1964, 1965, 1969, and 1989.
Commanding Officers -- DDG 17
| | |
| --- | --- |
| Commander Edwin P. Smith* | 13 Jul 1963 - 15 Sep 1964 |
| Commander George B. Lingren | 15 Sep 1964 - 7 Apr 1966 |
| Commander Carl H. Herrick | 7Apr1966-24 Nov 67 |
| Commander Harry D. Train II | 24 Nov 1967 - 7 Dec 1968 |
| Commander Walter R. Shafer* | 7 Dec 1968 - 21 Aug 1970 |
| Commander Richard C. Berry* | 21 Aug 1970 - 22 Jan 1972 |
| Commander Lloyd W. Fernald, Jr. | 22 Jan 1972 - 30 Jul 1973 |
| Commander Donald S. Campbell, Jr.* | 30 Jul 1973 - 29 Jun 1974 |
| Commander A. Robin Battaglini | 29 Jun 1973 - 14 Oct 1976 |
| Commander John F. Leder* | 14 Oct 1976 - 12 Jul 1978 |
| Commander John W. Hilt | 12 Jul 1978 - 10 Aug 1979 |
| Commander Raymond A. Helbig* | 10 Aug 1979 - 21 Oct 1981 |
| Commander Gary W. Zwirschitz | 21 Oct 1981 - 1 Oct 1983 |
| Commander Morton W. Kenyon | 1 Oct 1983 - 9 Nov 1985 |
| Commander Don P. Pollard | 9 Nov 1985 - 14 Nov 1987 |
| Commander David O. Rose | 14 Nov 1987 - 15 Dec 1989 |
| Commander William R. Williams | 15 Dec 1989 - 30 Oct 1990 |
(*) Deceased